After Cambodia I was off to Kuala Lumpur (KL) in Malaysia for a stop over before going to visit Nicky in Melbourne for New Year's.  I had Christmas in KL, checked out Melaka, another Malaysian town, and finally Singapore for a couple days.
KL is the hub for Asia Airlines, a low cost airline, that goes everywhere in South East Asia, which is why I decided to spend a few days there.  I arrived to a nice subway system and familiar fast food chains. Mmmm…Whopper. But, KL is not as captivating as Phnom Penh or Chaing Mai; (Snob alert) KL is globalized, so it doesn't have the same charm.  It does feature a unique cultural salad of Malay, Indian and Chinese people which makes you wonder what country you're actually in at times. But who needs a salad when there are Whoppers right? (Ugly American alert) Still a tad under the weather upon arrival on Christmas Eve, I took a nap at Back Home hostel. I woke up to the sounds of a Christmas party. Free beer and pizza, friendly travelers and a cool space took some of the homesickness away from not being home for the holidays.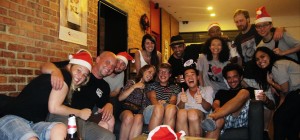 The next day I walked KL silly. I started with the Central Market, headed over the river and walked by the National Mosque. It is a beautiful structure but they didn't allow tourists in when I went by, unfortunately, as it was prayer time. I walked by a couple museums but was not in the mood, but I was in the mood to get my bird on. I took a stroll around the KL Bird Park, gawked at exotic species and got my glamour shots with tropical birds.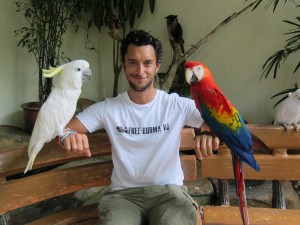 I also checked out the chicks there.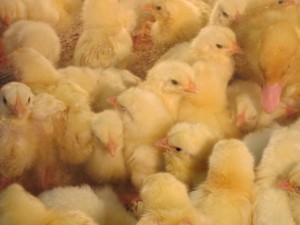 KL is known for its impressive shopping malls so I went over to the Rodeo Drive – Times Square of KL, Bukit Bintang.  It was Christmas day and the malls were in full effect. I could only peak in before being overwhelmed. There were really cool Buddy Bear sculptures outside the Pavilion KL.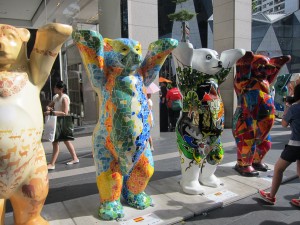 No time to grin and bear it; it was tower time. I ventured over in the sweltering heat to the famed Petronas Tours, the tallest twin tour structure in the world.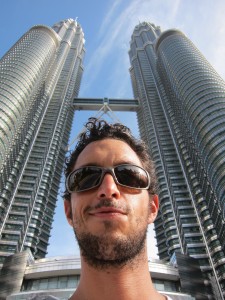 I snapped a few shots there and then headed to the KL tower. The view from up top was impressive. I returned to the hostel exhausted. But it was Christmas, so I joined some hostel friends for dinner and then drinks at a nearby rooftop bar. A couple we were with talked extensively abut the joys of teaching English in South Korea.  They relayed all the cultural nuances learned from the children they taught. First, the Korean girls like feminine looking Korean guys. Second, the girls have an agreed upon hierarchy of attractiveness in their groups. Third, there are apparently several words for delicious since so much of Korean culture is based around food. The kids would come in after the weekend talking about what they ate. It's funny how I ended up learning more about South Korea culture than Malaysian culture.  That's the price one pays for hurrying through country.
To get a little more culture, I ventured on to a smaller town called Melaka, which is known for its wonderful food and picturesque riverside. I went with Steven, a friendly Aussie. We spent the afternoon exploring the town, which we covered pretty quickly and both agreed we wouldn't be spending too much time here.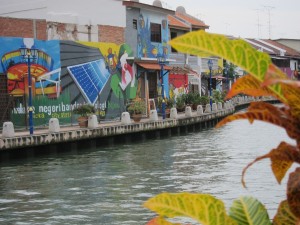 Since Melaka didn't have too much beyond food to captivate me, I decided to see Singapore since I was close and it sounded like a cool modern city. While on the bus there I talked to an older South African. He described Singapore as one of the few first-world countries; featuring great transit, great roads, and clean everything. He also described the strict social order the government keeps. I witnessed this when I saw a $1000 dollar fine for riding your bike along the river-walking path. Another punishable offense was parking your motorbike on the sidewalk, which is perfectly normal in most places in South East Asia.
The train system felt like those modern sleek airport trams in the states. I plopped down my backpack in a dorm room (lodging was a lot more expensive in Singapore) and checked out Chinatown – which was a step up from KL's Chinatown in terms of size and character. After an early bedtime I walked all over Singapore to hit the major spots. I started with little India, which is more colorful and grittier than the rest of the city. Then I walked through Clarke's Quay, a commercial riverside area with restaurants and shops. Next was Fort Canning Park, which had some amazing old trees. This sign warned of the impending doom if you ventured into the fenced-in reservoir in the park. Eeeek!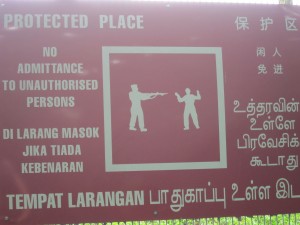 Next up was the Orchard area, home to a gigantic strip of shopping malls. After perusing a few malls, drinking a Starbucks skinny vanilla latte and 20 minutes deliberating over some shoes (did I really just admit all that?), I headed down to the marina bay area. On the way there I stopped for a drink on the 70th floor of the Stamford hotel to enjoy the epic views.  The waitress refilled my chip bowl no less than two times. My backpacker fashion was a little out of place in the upscale bar, but it didn't stop me from enjoying myself. I continued my walk down to the marina to take pictures of the sleek imaginative architecture.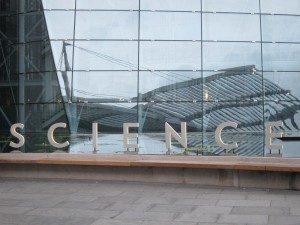 I got caught in a monsoon downpour along the bay, but luckily they have permanent huge umbrellas lining the promenade where you can wait out the storm. After the rain I headed over to the riverside for my last dinner in South East Asia to reflect on the wonderful, dangerous, hectic, fun and sobering experiences I have had over the past two months in this part of the world. The next morning I took a return bus to Kuala Lumpur to catch a flight to Melbourne to spend the New Year with Nicky!