Cambodia…where to start with this country? The traffic. Holy sh*t the traffic here is crazy. There seem to be four directions of traffic on a given road, the usual opposing directions of traffic in the lanes, and then on the shoulders, a bike or tuk tuk could be operating in the other direction. Nothing surprises the drivers, and people generally don't get angry. It's a terrifying lot as a tourist pedestrian. Your best bet it to just keep a constant pace while crossing once there is a lull and have faith the motorbikes steer around you. I avoided a near collision as I took a step back to the shoulder on a crossing attempt; not realizing a motorbike was right behind me. I only knew how close I was to disaster when I saw the look of horror on an approaching monk's face as he saw my near demise. As his bike got closer, his face turned grateful I wasn't road kill, and he uttered, "sorry."
Before I go into the city of Phnom Penh, I'll review a recent little history, since I was pretty clueless before my visit. In 1974 the Khmer Rouge came to power and over threw the reigning government. Pol Pot, the movement's leader, wanted to change Cambodia into a communist agrarian society. He systematically killed the nation's intellectuals, doctors, city people and anyone who was not ethnically Khmer among other innocents for fear they would undermine his reign. It started with the taking over of the capitol of Phnom Penh, which was literally emptied on April 17th, 1975. It continued with the relocation of many millions and the brutal deaths of almost 2 million.
During the trip I read,  "At First They Killed My Father" a little girl's autobiographical account of the Khmer Rouge's siege of Phnom Penh, the restructuring of the country and the systematic killing of their own people. This book provides a riveting and heartbreaking account of this tragedy from a four year-old's perspective. Once I arrived in Phnom Penh I visited two memorial sites to the genocide, the Killing Fields and Tuel Sleng. The Killing Fields were literally fields where prisoners of the Khmer Rouge were killed. Prisoners were blindfolded and murdered with tools like hoes and axes, while propaganda music blared from speakers to muffle their screams. Bullets were too expensive. Soldiers would grab children by the legs and bash them against a tree, and there was a specific tree they used. Then they were dumped in mass graves. A well-produced audio tour guides you around the site where excavated graves sit as depressions in the grass.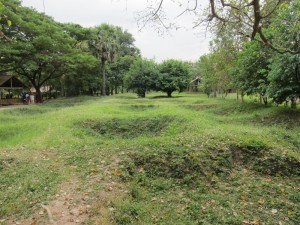 During rains storms bits of clothing and bone still surface, and caretakers collect these. In the middle of the field there is a memorial stupa (Buddhist shrine), which houses hundreds of skulls of the victims. It is a sobering and macabre site.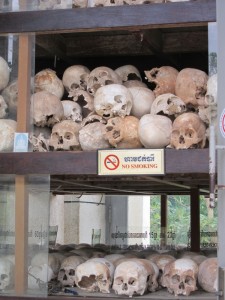 Many of the victims who ended up at the killing fields were transported from Tuel Slan (S21). This was a school turned into a detainment and torture center. It has since been turned into a museum. It's an eerie museum, which features the original jail cells, the barbed wire that kept prisoners from jumping to kill themselves and the occasional bloodstain. Surprisingly, only now are some of the leaders who were responsible for this killing facing a UN war crimes tribunal. The world seemed not to know what was going on here, or chose to ignore it.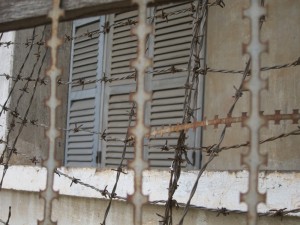 Phnom Penh is a hectic city, but I gained a bit of peace along the riverside, which is quite pretty. They're groups of people do dancing aerobics, friends chatting and children playing. Venture inland and the regular mix of stores and outdoor markets are side by side with working girl bars and massage parlors. Many people come into Phnom Penh for the sex tourism which seems very open, more so than Thailand. Later on in my trip I spoke with a documentarian that did a film on the child business here. There is a specific place outside of the city that specializes in children for the interested perv. Ok I am not really selling Cambodia yet am I?
On a positive note there are shooting ranges in the area and I took the opportunity to fire off a round of a M-4, a shiny new automatic weapon. Overall the experience was a bit of a let down as it was over so quickly (that's what she said) but it was pretty awesome to experience the raw power the killing machine had (that's what…oh never mind).  But in all seriousness, later I took a lovely ride through the villages outside of the city, which was a nice way to get a glimpse of the village life.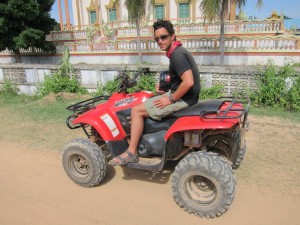 I went with Blazing Trails on a half-day tour through rice fields, villages and country. Little kids along the path were used to the ATV rumble and would run out to greet us. It was so darn cute these kids were just happy to say hello.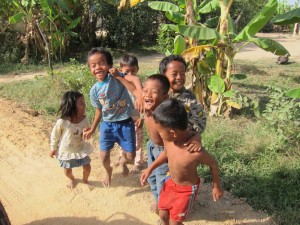 Cambodian kids are adorable. One aside, if I was a professional photographer I would do a series on toddlers on the front of motorbikes. I am horrified by it; one at the lack of helmet, and two the lack of seatbelt. But I also think its so freakin adorable, these little faces squinting with wind in their eyes and their hair flying about.
After a couple of days in the city I booked a bus to Sihanoukville, the main beach hub on the southern coast. I avoided downtown and headed to Otres beach. Otres is a quieter beach that is a little tricky to get to, so less people come. It is one of the places a traveler looking for an ideal beach comes, and ends up staying. It's the perfect mix of relaxed vibe, good social scene and beautiful sunsets. Forbes listed it as one of the top 22 beaches in the world. There are no big developments yet, and it feels like a small town. I stayed in a room at a small Cambodian family owned guesthouse / beach shack. It was a hefty 5$ a night so I decided to stay for a bit.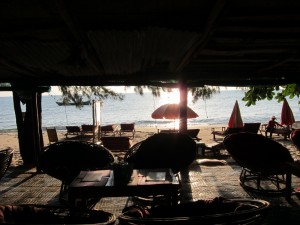 I want to come back and do a reality show of the characters there at the beach, including the owners Oocha Bar. These hard drinking Aussies who invite patrons not just to just drink, but to "contend." These bar owners probably get drunker than their patrons, but are having a good time doing it. I arrived here first in Otres. A couple of friends I made on the bus down knew the bar owner, so stopped here first before finding a place to stay. It started to pour heavily, so the only thing to do was pour a beer and get to know the locals. Soon I was watching one of the bar owners guzzle from a beer bong while being tazed willingly, by a tazer that was being played with.
After five days of some serious r & r at the beach I headed back to Phnom Penh. My first mission was to get more pages in my passport. I felt proud of myself for reaching this travel milestone. I visited the U.S. Embassy, and it was nice to see old faithful flapping in the wind. Later I saw a sign for the international Cambodian film festival. I looked it up online and it was three days of movies, documentaries and shorts. I decided to stay in Phnom Penh and binge on films.
I'll spare the details of what I saw, but it was really cool to see Cambodia through various filmmakers' lenses.  There were a few docs on the atrocities of the Khmer Rouge, which further punctuated the horror stories from the memorial and museum.  There were also some documentaries, which highlighted the decline of the old ways in small villages as old school tribes cope with the modern world.
Next I was on to Battanbang for a taste of a quieter town. It's the fourth biggest city in Cambodia, but seems like worlds away from the hustle and bustle in Phnom Penh. It's also less tourist-centric which is nice. I met an American on the bus ride over, EJ from Oregon, and we hit it off. We ended up staying at the same guesthouse, and how could we not for 4.50$ a night for private rooms. We ended up grabbing drinks that night and had our first (and only) encounter with a Cambodian beer girl.
EJ and I decided to have beer at a local place nearby. Then a girl for Cambodia Beer came over and offered us beer. We gladly accepted and then she sat down with us and kept pouring us beers. Her English was non-existent. She had a manager there too whose English was not much better. They both shared our beers and some smiles. Then the manager started pointing at Esmerelda (the closest English approximation of her name we could decipher) and I nefariously. OK. I get it…I read that some of these beer girls double as working girls. He then kind of pushed our heads together as if I didn't understand, and said, "boom boom." Hmmm…I used my best sign language and broken English to indicate,  "no boom boom." (a wagging finger, followed by pounding fists).  We did get free Cambodia Beer hats out of the deal. We were quite amused with Esmeralda's eager to please attitude, but soon parted ways with no boom-boom.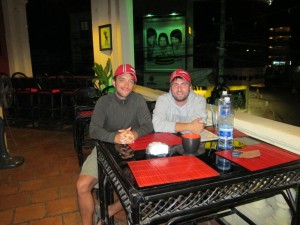 The next day I woke up feeling awful, and it wasn't a hangover. I had a fever. My first fear was malaria, so I headed over to the local clinic, and got some blood tests. I did have a 102-degree fever, but not Malaria. The doctor suspected Dengue Fever. It sounded cool, but bad too. My fever broke the next day, and the following day I went for a follow up. No Dengue…it seemed like simple tonsillitis. I'll take it. I was pretty tired so I took it easy for a few days in Battanbang. Time was running out to get to Siem Reap, so I took a bus after three days on the mend.
Siem Reap is the popular hub for visiting the great temples of the Angkor period. This includes, but is not limited too Angkor Wat, Bayon and Ta Prohm (made famous by the Movie Tomb Raider with Angelina Jolie). I awoke before dawn and my Tuk Tuk driver took me to Angkor Wat for sunrise. Some argue this is one of the largest religious temples in the word. Indian structures and Hinduism influence it heavily. It's meant to evoke a mountain climbing towards the gods.
As it's tourist peak season I am not the only one who was up for sunrise and I would guess at least 200 others were there too to get the perfect snap. The temple is so grand in scale.  Detailed bas-reliefs run along the outside of one the courtyards, and they highlight centuries of history.  Next was Bayon, which is known for its huge sculpted heads, and it's convoluted structure.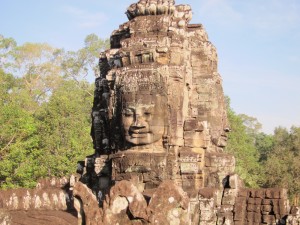 Successive kings built over the existing structure many time so it's maze like, enormous and impressive. The last temple of note was Ta Prohm. It was the only temple in the vicinity left close to its natural state. Gigantic Silk Cotton Trees and smaller Strangler Fig Trees and sculpted rock live side by side and create a beautiful effect.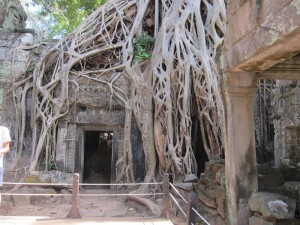 Visiting the temples was an epic climactic way to end my trip. The country is a confluence of grandeur, history, chaos, beauty, grit and crazy freakin traffic. And no boom boom!