After Madrid it was time to finish what I started in Istanbul. Four more days until I was off to Thailand, and those days made all the difference in my impression of Istanbul. I left leaving a bit sad, which is a good thing.
The first day back was my birthday; 33 years old. I had celebrated the night before , so after skyping my parents and soaking up my Facebook Wall love, I had dinner at Optimist Cafe opposite the Blue Mosque. I guess you could say my birthday was looking up and was righteous. There were no available tables so a man beckoned me to join him. He was the owner of the place, Muhammed. We chatted and I ate with a stranger for my birthday dinner. While I was not surrounded by family or friends, I knew there were people who loved me and were thinking about me. I also was in an amazing place in a free time in my life, so I felt good. Bed time was nice and early so I could go for a run along the Bosphorous river in the morning.
The run felt great after a long hiatus from jogging. Afterwards shopping at the Grand Baazar was on tap, but unfortunately due to a muslim holiday it was closed for four days and reopened after my departure. Bummer. As a birthday present I decided to treat myself to a Turkish bath at Cagaloglu, a world famous 300 year old exquisite tourist trap.
I got massaged and bathed by rough Turkish fellow who took layers off my skin and cracked places in my body I didn't know were crackable. Relaxed and clean, I decided  to walk the city silly. My journey started from the Grand bazaar, through Sultahnamaet down to the river, across the Golden Bridge and into Beyoglu. I walked around, hung out in a cafe, shot pictures  and took in the city. I followed locals around along their walking routes. It proved worthwhile in discovering bits of the city I hadn't seen previously.
The following day I visited Hagia Sofia, and was blown away. Often I feel unimpressed with old religious buildings, but this one inspired a true feeling of awe and grandeur.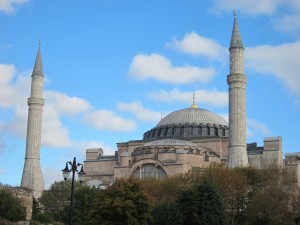 Hagia Sophia is a former basilica, later a mosque, and now a museum. From its dedication in 360 until 1453, it was the Greek Orthodox Cathedral in Constantinople.  The building was turned into a mosque from 1453 until 1931, when it was changed into a museum. It was the largest cathedral in the world for nearly a thousand years.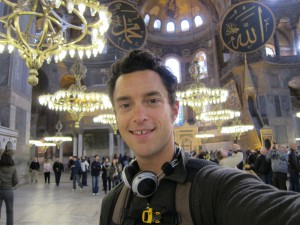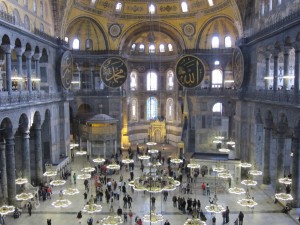 That afternoon I went into Beyoglu to Taksim Square where I had made plans to meet up with Umut Ersoy. Umut works in Porter Novelli's Istanbul office and a friend in the New York office suggested I get in touch. I was planning on visiting the office and meeting the PN team, but they were closed for the holiday. Lucky for me, Umut was kind enough to take me around the city and was an excellent guide. As we started walking and figuring out a plan, I told him I had not yet tried Raki, Turkey's signature liquor, similar to Greece's Ouzo. We went to Zeytinli Restaurant and Umut started ordering all types of starters I would have been bashful to order on my own. He explained the nuances of Raki culture. It's all about talking…from sports to women to life…it's about taking time to connect. You need to eat food and relax with it. A Turkish man looks forward to the day when he can share Raki with his son.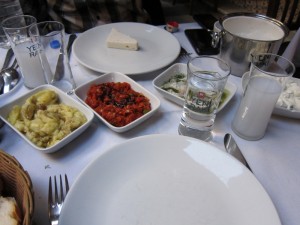 After a lot of food and Raki (cut with water to take out some of the bite) we took a cab ride by the river for a waterpipe (hookah) and tea. It was a 15 minute walk, but Umut insisted on a cab to give me the Sultan's treatment. After explaining this treatment to the cab driver he waived the fare for us. Over waterpipes and tea in Tophane we played backgammon and I soaked in the rich smokey atmosphere.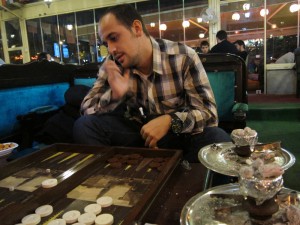 After tea is was time for desserts, and we got treated to an assortment of Turkish treats. To my disappointment chocolate is not a staple, but the desserts were tasty none the less. Umut's friend Betse came to meet us for dessert and joined us for the rest of the evening.
I found out Umut is a Turkish celebrity, having appeared on television for his blog about toilets around Istanbul and Turkey called Toilet Guru. It started as funny joke that snowballed into a popular site. His friend Betse was an impressive designer as well, who's signature project Map Envelope provides a way to print out an envelope with your location printed on a  google map inside.
We continued on for cocktails and onto a really cool club called Minimüzikhol where we ended the adventurous day. I really appreciated Umut's hospitality, all the places he took me and the local treatment which gave me a whole new perspective on Istanbul. Next time I'll let him know Im coming before my second to last day in the city.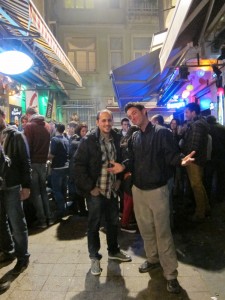 On the last day it was time for some souvenir shopping and to check out the National Archeological Museum. The museum had a really impressive collection of artifacts, statues and sarcophaguses. It reinforced how rich and deep the layers and layers of history this country has, which I will not begin to recount here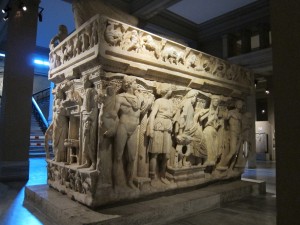 My plan was to take the tram and subway to the airport for departure and everything was going smoothly until the tram stopped and everyone got out and started walking on the track, which is not normal. The tram in front of us us was involved in an accident where a van collided with it after crashing over the tram barricade. This stopped tram traffic in both directions. I thought getting a taxi was hopeless with all the people needing other means of transport. I looked hard for a cab and one stopped with several people trying to get it. An old before me stated his destination and the driver said no, asked where I was going, and he said yes. He then made up the time I lost and then some with his race car moves and bumping pop music.
It was nice to end my Turkey trip with an adrenaline rush sweetened by the assurance of making my flight. But that wasn't the end of trouble in Turkey…While checking in I was informed  that a return or onward ticket was needed to get into to Thailand.  D'oh! I got a wifi connection and checked out a map. Cambodia is on my list and is close. Alright sounds good. Ok…there were a few travel agents, but most didn't speak English, nor were they particularly interested in trying. I finally got one who could help, and got an onward ticket. Phew.
And I was off to to Bangkok where I would get to meet up with Nicky for 10 days for some beach fun!!!